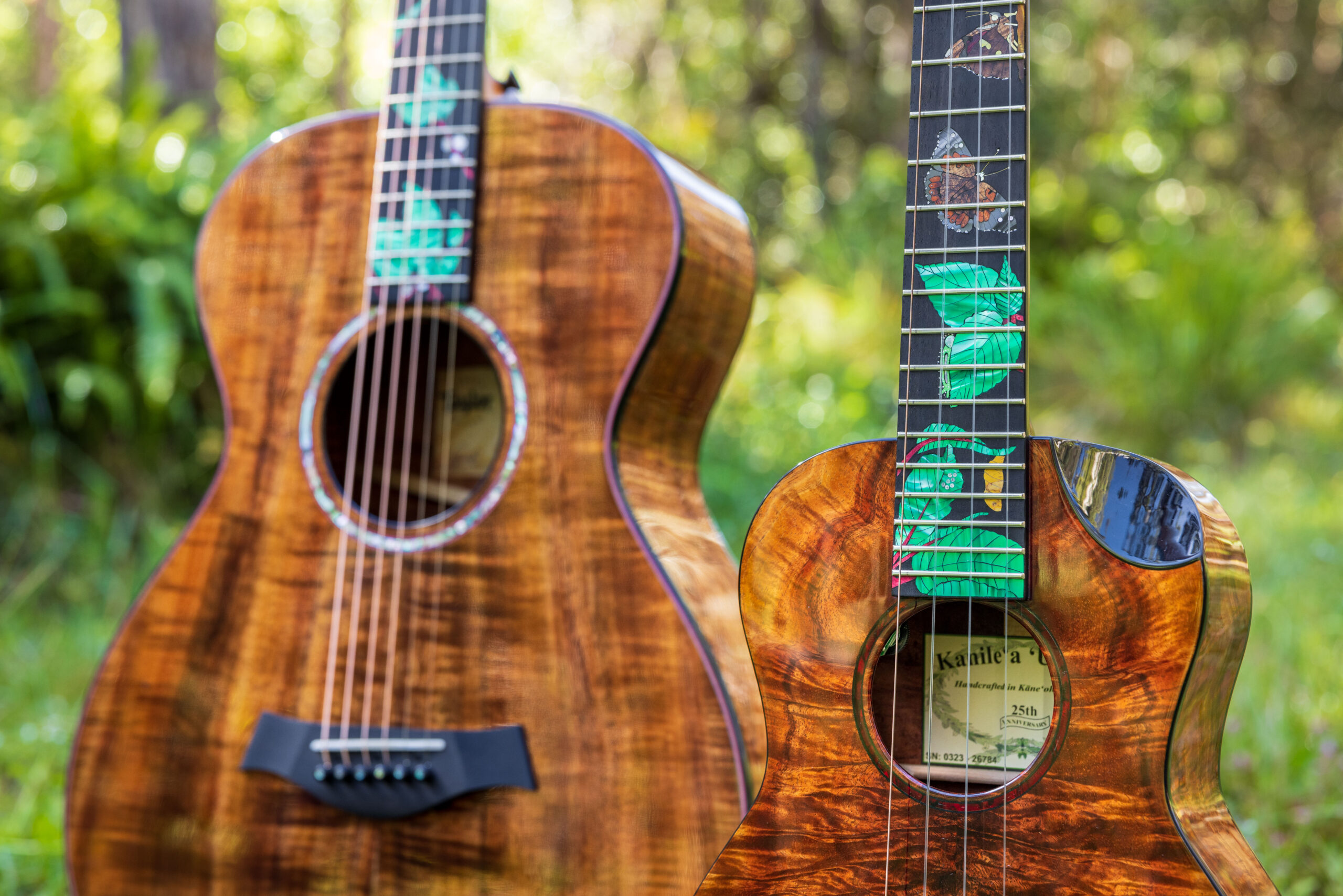 enter for a chance to win
Custom Taylor Guitar
Custom Kanileʻa ʻUkulele
& $2,400 Cash
Enter for a chance to win with a $10 non-refundable donation to Saving Hawaiiʻs Forests 501(c)(3) and get one (1) entry.  There is no limit to entries. i.e. $10=1 entry $50=5 entries. Or via alternate means of entry, detailed in the rules below.
The winner receives all three (3) prize items; the Taylor Guitar, the Kanileʻa ʻUkulele, and the cash.
The sweepstakes is open from November 11, 2023 at 8:00:00 AM HST until December 31, 2023 at 11:59:59 PM HST.
Sweepstakes is open to all United States and D.C. residents eighteen (18) years and older except Alabama and Nebraska which is nineteen (19) and Mississippi which is twenty-one (21)
The winner will be announced here on this web page on or about January 12, 2024
A random drawing will be conducted by Marden-Kane Inc. to select the winner and the winner will be contacted by Marden-Kane Inc. to verify the winnerʻs credentials before an announcement is made
SHF is an eco-conscious non-profit focused on environmental conservation and reforestation. In partnership with organizations like Taylor Guitars and Kanileʻa ʻUkulele, this sweepstakes offers a unique opportunity to win high-quality instruments. By participating, you support sustainability programs aimed at reducing carbon footprints and contribute to educational efforts concerning sustainability, cultural preservation, and reforestation. Your involvement helps rejuvenate native Hawaiian forests and protect the environment while offering educational experiences to various participants.
By Entering the Sweepstakes You Agree to the Rules Below
NO PURCHASE/DONATION NECESSARY TO ENTER OR WIN. A purchase/donation of any kind will not increase your chances of winning. Open to 50 US & DC & 18+. By entering, each entrant agrees to be bound by the Official Rules & all entry/eligibility requirements set forth therein. Void where prohibited. Sweepstakes ends at 11:59:59pm HST on 12/31/2023. 1 Grand Prize, ARV $10,800. See Official Rules for complete details including how to enter without making a purchase/donation. Sponsor: Saving Hawaii's Forests, 81-6580 Mamalahoa Hwy, Kealakekua, HI 96750.
---
enter the
Strum for a greener world sweepstakes
The Instruments
Taylor Guitars and Kanileʻa ʻUkulele, both renowned for their craftsmanship and commitment to musical excellence, have joined forces to create the ultimate collection of instruments for our exciting sweepstakes. These instruments represent the pinnacle of quality and innovation in the world of music, making them prized possessions for any musician.
By Entering the Sweepstakes You Agree to the Rules Below
hear these
Masterpieces Being Played
---
Strum for a Greener World Sweepstakes
OFFICIAL RULES
THIS PROMOTION IS OPEN TO LEGAL RESIDENTS OF THE UNITED STATES
AND THE DISTRICT OF COLUMBIA. VOID WHERE PROHIBITED BY LAW.
NO DONATION NECESSARY. A DONATION OR ACCEPTANCE OF
A PRODUCT OFFER WILL NOT IMPROVE YOUR CHANCES OF WINNING.
BY ENTERING OR OTHERWISE PARTICIPATING IN THIS PROMOTION, YOU AGREE TO THESE OFFICIAL RULES, SO READ THEM CAREFULLY BEFORE ENTERING. WITHOUT LIMITATION, THESE OFFICIAL RULES REQUIRE YOU TO INDEMNIFY AND RELEASE ALL CLAIMS AGAINST THE PROMOTION ENTITIES AND TO AGREE TO ARBITRATION WITH NO CLASS RELIEF AND A LIMITATION OF YOUR RIGHTS AND REMEDIES. ALL DISPUTES WILL BE RESOLVED SOLELY BY BINDING ARBITRATION WITH NO CLASS RELIEF.
ELIGIBILITY: The "Strum for a Greener World" Sweepstakes (the "Sweepstakes" or "Promotion") is open only to legal residents of the 50 United States and the District of Columbia, who are eighteen (18) years of age or older or the age of majority in their state of residence (which is nineteen (19) in Alabama and Nebraska; twenty-one (21) in Mississippi; and eighteen (18) in all other participating states and DC) as of the date of entry (the "Entrant"). Void where prohibited or restricted by law. Employees of Saving Hawaii's Forests (the "Sponsor"), its affiliates, subsidiaries, advertising, promotion partners and internet agencies, and each of their respective officers, directors and agents (collectively "Released Parties") and their immediate family members (spouse, parent, child, sibling, and grandparent) and/or those living in the same household of each are not eligible. All federal, state and local laws and regulations apply. By participating in the Sweepstakes, entrants agree to be bound by these Official Rules. Winning a prize is contingent upon fulfilling all requirements set forth herein.
PROMOTION PERIOD: The Sweepstakes begins at 8:00:00 AM] Hawaii Standard Time (HST) on November 11, 2023 and ends at 11:59:59 PM HST on December 31, 2023 (the "Promotion Period"). Sponsor's computer is the official time-keeping device for the Sweepstakes.
TWO WAYS TO ENTER:
Entry via an online donation: Internet access required. During the Promotion Period, eligible Entrants will automatically receive one (1) Entry for every $10 donation made (e., a $20 donation will constitute as 2 entries)

on the "Strum for a Greener World" Sweepstakes page

https://savinghawaiisforests.org/ (

the "Website") during the Promotion Period. Follow the instructions to make your donation and receive an entry.

Your non-refundable donation transaction must be received by 11:59:59 PM HST on December 31, 2023 and must include your consent to be entered, to be eligible to receive entries via a donation, in this Promotion. If a donation/transaction is cancelled prior to the drawing, entry/ies associated with that donation/transaction will be voided. Donation(s)/transactions made as part of the entry process are non-refundable and not tax deductible. During the Promotion Period, entrant will also have the opportunity to opt-in to receive further email communications from the Sponsor. Entrants are not required to opt-in for this service to participate in this Promotion and opting-in will not increase your chances of winning. If an Entrant chooses to opt-in, the Entrant thereby grants the Sponsor permission to send him/her future communications regarding services, incentives, offers, promotions, or other messaging related to the Sponsor's services and products, which Entrant can unsubscribe from at any time.
No Donation Required, Mail-In Method of Entry: To enter without making any kind of donation, on a plain piece of 3"x5" paper, hand print your complete first and last name, street address, city, state, zip code, date of birth (mm/dd/yyyy), e-mail address plus daytime telephone number including area code. Mail your entry in a #10 business-size envelope with first-class postage affixed to:

Strum for a Greener World

Sweepstakes, POB 488 Syosset, NY 11791-0488 USA. Your outer-mailing envelope must include a valid return address, which includes a complete first and last name. Mailed entries received without a verifiable and legible return address will be deemed incomplete and invalid. Limit one entry per outer-mailing envelope. Bulk shipments (multiple entries in one shipping package) will not be accepted. Mail-in entry, including outer-mailing envelope must be handwritten. No mechanically reproduced entries or metered mail permitted. Entries that are postmarked by December 31, 2023 and received by January 6, 2024 will be eligible for the random drawing. Each mail-in envelope will count as one (1) entry, provided that the mail-in entry complies with the above requirements.
There are no limits to the number of entries per person/per Promotion Period, regardless of method of entry. Mail-in entries that are not in the format specified above, that are illegible, inaccurate, incomplete, or reproduced via photocopier or otherwise will be considered null and void. Proof of submission does not constitute proof of receipt. Not responsible for lost, late, illegible, mutilated, misdirected, postage-due entries or entries not received by the deadline. All material submitted becomes property of Sponsor and will not be returned. No correspondence will be acknowledged or entered into; requests for confirmation of receipt of mail-in entries will not be acknowledged.
RANDOM DRAWING: A random drawing to select one (1) potential Grand Prize winner will be conducted on or about January 8, 2024 from all eligible online donation and non- donation mail-in entries received. The random drawing will be conducted by Marden-Kane, Inc. (the "Administrator") an independent judging organization whose decisions are final. Odds of winning depend on the number of eligible entries received. This is a randomized drawing that is not intended to and should not influence any decisions or actions for the benefit of the Sponsor. The promotion is in compliance with all applicable anti-corruption laws and regulations.
WINNER NOTIFICATION: The potential Grand Prize winner will be contacted by email and/or phone by the Administrator and will be required to complete and return an Affidavit of Eligibility, Release of Liability, Prize Acceptance Form, a W-9 Tax form, legal proof of identity and where lawful, a Publicity Release (collectively "Documents") within seven (7) days (including Saturdays, Sundays and Holidays) of attempted delivery of same. Failure to return required Documents/information within the specified time, failure to respond to a notification or return of any prize/prize notification as undeliverable will result in disqualification without further notice and an alternate potential winner may be determined at Sponsor's sole discretion. In the event that a Prize winner is deemed ineligible, fails to comply with any eligibility requirements or is unable to claim the Prize as specified, the Prize may be awarded to an alternate following the aforementioned process. Prize award is contingent on eligibility verification and potential winner completing and returning all required Documents.

Upon prize forfeiture, no compensation will be provided.

Only three (3) random drawings to select an alternate winner (if necessary) will be conducted, after which the applicable prize will remain unawarded.
The Sponsor assumes no responsibility for undeliverable email(s) resulting from any form of active or passive email filtering by a user's Internet service provider and/or email client or for insufficient space in user's email account to receive email messages.
SCAM ALERT - Protect yourself from scams. If you are selected as a potential winner in one of our Promotions, our Administrator, Marden-Kane will contact you via the phone number and/or the email address you provided on your order/mail-in entry form. You will NEVER be asked to provide a credit card, bank information or a payment of any kind as a condition of a prize award. Those are sure signs of Promotion scams. We do NOT use social media to contact winners of the Promotion we offer on www.instagram.com/savinghawaiisforests
Or www.facebook.com/savinghawaiisforests Prize winnings must be reported to the IRS when filing your tax returns, and any federal or state income taxes would need to be paid by you directly to the IRS. For more information, visit http://www.mardenkane.com/scammer-alert and/or Scam Alerts | FTC Consumer Information.
PRIZE AND APPROXIMATE RETAIL VALUE (ARV), PRIZE VALUE STATED IN U.S. DOLLARS (USD):
One (1) Grand Prize with a total ARV of $10,800 consists of:

a Custom Built Taylor Guitar (ARV $4,200)
a Custom Built Kanilea 'Ukulele (ARV $4,200)
$2,400 Cash (awarded in the form of a check, made payable to the confirmed winner)
PRIZE RESTRICTIONS

: Grand

Prize consists of only the items specifically listed as part of the prize. In no event will more than the one (1) Grand Prize be awarded. Prize winner will be solely responsible for any applicable federal, state and local taxes and any other expenses related to the acceptance and use of a prize not specified herein. The Grand Prize winner will also receive an IRS form 1099 for the value of the prize stated herein. No substitutions, cash equivalents, or transfer of prize permitted except at the sole discretion of the Sponsor, who reserves the right where lawful to substitute a prize (or portion thereof) with one of comparable or greater value, except as otherwise provided herein if the advertised prize becomes unavailable. Prize to be delivered to the verified Prize winner via mail within four-4 weeks from date of Winner verification. Photographs of the Grand Prize in any media are for illustrative purposes only and may not be the actual model(s) to be awarded. All details of the prize not specified herein shall be determined solely by Sponsor. Sponsor is not responsible for damage or loss of a prize (or portion thereof) after it has been delivered to a confirmed winner. The Prize will be awarded "AS IS" without warranty by Sponsor of any kind. Winner acknowledges that Sponsor has not made nor is in any manner responsible for any warranty, representation, or guarantee, express or implied, in fact or in law, relative to any component of the Prize offered in this Promotion, including but not limited to its quality, mechanical condition or fitness for a particular purpose. At Sponsor's sole discretion, prize may vary to what has been advertised, pictured, etc. All details of the prize not specified herein shall be determined solely by Sponsor.
RELEASE: Entrants and winner agree to release, discharge and hold harmless Released Parties from and against any claim or cause of action or liability (including but not limited to, personal injury, death or damage to or loss of property) arising out of participation in the Sweepstakes or acceptance/receipt/use or misuse of the prize, and agree to be bound by the Official Rules and the decisions of the Sponsor and/or Sponsor's representatives, which are final. Acceptance of a prize constitutes permission for the Sponsor and its agencies to use winner's name and/or likeness for purposes of advertising and trade without further compensation, including a winners list, unless prohibited by law. In the event there is a discrepancy or inconsistency between disclosures or other statements contained in any promotional materials and the terms and conditions of the Official Rules, the Official Rules shall prevail, govern and control. Sponsor not responsible for any typographical or other error in the printing of the offer, administration of the Sweepstakes or in the announcement of the prize. The Official Rules prevail should there be any conflict or uncertainty relating to the promotion based on information or advice provided by any of the Released Entities.
NOTICE: ANY ATTEMPT BY AN INDIVIDUAL TO DELIBERATELY DAMAGE ANY WEB SITE OR UNDERMINE THE LEGITIMATE OPERATION OF THIS PROMOTION IS A VIOLATION OF CRIMINAL AND CIVIL LAWS, AND SHOULD SUCH AN ATTEMPT BE MADE, SPONSOR RESERVES THE RIGHT TO SEEK DAMAGES FROM ANY SUCH INDIVIDUAL TO THE FULLEST EXTENT PERMITTED BY LAW. Released Parties are not responsible for faulty, incorrect, undeliverable or mistranscribed phone/e-mail/internet transmissions, incorrect announcements of any kind, technical hardware or software failures of any kind including any injury or damage to any person's computer related to or resulting from participating in or experiencing any materials in connection with the Promotion, lost or unavailable network connections, or failed, incomplete, garbled or delayed computer transmission that may limit a user's ability to participate in the Promotion. Sponsor assumes no responsibility for undeliverable e-mails resulting from any form of active or passive e-mail filtering by a user's Internet service provider and/or e-mail client or for insufficient space in user's e-mail account to receive e-mail. Sponsor reserves the right to cancel or modify the Promotion if for any reason, the Sweepstakes is undermined by any event beyond the Sponsor's control, including but not limited to fire, flood, epidemic/pandemic, labor dispute or strike, act of God or public enemy, or any force majeure event or if fraud, misconduct or technical failures destroy the integrity of the program; or if a computer virus, bug, or other technical problem corrupts the administration or security of the program as determined by Sponsor/it's agencies, in their sole discretion. The failure of the Released Parties to comply with any provision of these Official Rules due to an act of God, epidemic/pandemic, act of public enemies or any act outside of the Sponsor's control/force majeure event, will not be considered a breach of these Official Rules. In the event of termination, a notice will be posted online and a drawing to award the Prize will be conducted from among all eligible entries received prior to termination. In the event a dispute arises regarding the identity of the entrant, entry will be deemed made by the person whose name appears on the online order form or mail-in entry. Any damage made to the Website by an entrant will be the responsibility of the entrant and/or the authorized e-mail account holder of the e-mail address submitted at the time of entry. Proof of submitting entries will not be deemed to be proof of receipt by Sponsor. Any entries which are suspected of being fraudulent (including those using robotic, automatic, programmed or similar methods of participation) may be disqualified, based on determinations made solely by Sponsor. Sponsor reserves the right to prohibit the participation of an individual if fraud or tampering is suspected or if the individual fails to comply with any requirement of participation as stated herein or with any provision in these Official Rules.
PLEASE READ: IMPORTANT NOTICE REGARDING DISPUTE RESOLUTION. These Official Rules contain terms that govern how claims relating to this Promotion will be resolved. For example, they include an arbitration agreement and waiver of a class action that require submitting Promotion-related claims to an arbitrator (instead of going to court before a judge or jury). They also limit the ability to bring claims on behalf of other persons (that is, it prohibit bringing any class action or collective or representative proceeding). The official rules also limit the type of damages that can be recovered. Please read these terms carefully as they impact your legal rights and, by participating in the Promotion, you are agreeing to the terms.
CHOICE OF LAW/JURISDICTION AND DISPUTE RESOLUTION: This Promotion is offered only in the 50 United States and the District of Columbia and is governed by the laws of the State of Hawaii.

Sponsor's failure to enforce any terms of these Official Rules shall not constitute a waiver of that or any other provision.

By entering, entrants irrevocably consent to the dispute resolutions stated below as well as to the sole and exclusive jurisdiction of the courts of the State of

Hawaii

located in

Honolulu County

for any action, suit or proceeding arising out of or relating to this Promotion. Entrant agrees that whenever you have a disagreement with Administrator or Sponsor arising out of, connected to, or in any way related to the Promotion, the Official Rules, or the Sponsor's and/or Administrator's Privacy Policy, you will send a written notice to the Sponsor ("Demand"). Entrant agrees that the requirements of this Dispute Resolution section will apply even to disagreements that may have arisen before Entrant accepted these Official Rules or the Sponsor's and/or Administrator's Privacy Policy. Entrant must send the Demand to the following address (the "Notice Address"):

Saving Hawaii's Forests,

81-6580 Mamalahoa Hwy, Kealakekua, HI 96750

.

Attention; Legal Department. Entrant agrees that Entrant will not take any legal action, including filing a lawsuit or demanding arbitration, until 10 business days after Entrant sends a Demand. If the disagreement stated in the Demand is not resolved to Entrant's satisfaction within 10 business days after it is received, and Entrant intends on taking legal action, Entrant agrees that it will file a demand for arbitration with the American Arbitration Association (the "Arbitrator"). This arbitration provision limits the ability of Entrant, Administrator, and Sponsor to litigate claims in court and Entrant, Administrator and Sponsor each agree to waive their respective rights to a jury trial or a state or federal judge. Entrant agrees that it will not file any lawsuit against Administrator or Sponsor in any state or federal court. Entrant agrees that if it does sue in state or federal court, and Administrator or Sponsor brings a successful motion to compel arbitration, Entrant must pay all fees and costs

incurred by Administrator and Sponsor in court, including reasonable attorney's fees. For any such filing of a demand for arbitration, Entrant must provide proper service under the rules of the Arbitrator and notice to the Notice Address may not be sufficient. If, for any reason, the American Arbitration Association is unable to conduct the arbitration, Entrant may file its case with any national arbitration company. The Arbitrator shall apply the AAA Consumer Arbitration Rules effective September 1, 2014 (and as may be amended) and as modified by the agreement to arbitrate in this Dispute Prevention and Resolution section. Entrant agrees that the Arbitrator will have sole and exclusive jurisdiction over any dispute it has with Administrator or Sponsor. The Federal Arbitration Act allows for the enforcement of arbitration agreements and governs the interpretation and enforcement of the agreement to arbitrate. The place of arbitration shall be Kealakekua, Hawaii. Entrant agrees that it will not file a class action or collective action against Administrator or Sponsor, and that Entrant will not participate in a class action or collective action against them. Entrant agrees that it will not join its claims to those of any other person. Notwithstanding any other provision in the Official Rules, or the Sponsor's and/or Administrator's Privacy Policy, if this class action waiver is invalidated, then the agreement to arbitrate is null and void, as though it were never entered into, and any arbitration dispute at that time will be dismissed without prejudice and may be refiled in a court. Under no circumstances does entrant, Administrator, or Sponsor agree to class or collective procedures in arbitration or the joinder of claims in arbitration. Administrator and Sponsor agree that we will submit all disputes with Entrant to arbitration before the Arbitrator. All issues and questions concerning the construction, validity, interpretation and enforceability of these Official Rules, or the rights and obligations of the Entrant and Sponsor's in connection with the Promotion, shall be governed by, and construed in accordance with, the laws of the State of Hawaii, without giving effect to any choice of law or conflict of law rules (whether of the State of Hawaii, or any other jurisdiction), which would cause the application of the laws of any jurisdiction other than the State of Hawaii. This arbitration provision shall survive conclusion, modification or termination of the Promotion and suspension, revocation, closure, modification, or amendments to the Official Rules, and any aspect of the relationship of the parties relating to or arising from participation in the Promotion.
PRIVACY: Information collected from participants shall be used only in a manner consistent with these Official Rules and is subject to Sponsor's privacy policy available at https://savinghawaiisforests.org/privacy-policy/

.

Sponsor will provide the personal information provided to enter this Sweepstakes to a third-party fulfillment company only to administer the Sweepstakes and verify the winner.

WINNERS LIST: The name of the Prize Winner will be announced at https://savinghawaiisforests.org/ on or about January 12, 2024 or after the Grand Prize Winner has been verified.
SPONSOR: Saving Hawaii's Forests, 81-6580 Mamalahoa Hwy, Kealakekua, HI 96750. Mail-In entries will not be accepted at this address.
ADMINISTRATOR: Marden-Kane, Inc., 575 Underhill Blvd., Suite 222, Syosset, NY 11791-3416.
The names of actual companies and products mentioned herein may be the trademarks of their respective owners.
© 2023 Marden-Kane, Inc. All rights reserved. These Official Rules may not be copied, edited, or used for any other purpose, commercial or otherwise, without the express written consent of Marden-Kane, Inc.